The Hotel Santa Marta Real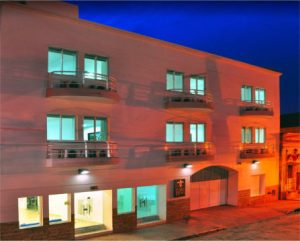 Hotel Santa Marta Real is strategically located in the historic center of Santa Marta. We welcome you to experience our distinctive brand of comfort and quality and to take advantage of our proximity to everything you need or might wish for in your business and leisure pursuits.
Hotel Santa Marta Real is the ideal hub for businesspeople and tourists alike. Make us your starting point for access to the nearby seaport; the international marina; and the offices of the mayor and governor, notaries, and banks and to such additional destinations as museums, churches, and the city's main shopping malls.
We guarantee a warm welcome from staff trained to meet your every need. Our staff will make you feel at home and provide you with an unforgettable stay through superlative service.
SAFETY DEPOSIT BOX (FOR LAPTOP)
Terraza Bar
Located on the fourth floor of the hotel, the terrace bar provides an unbeatable view of the port and of El Morro, an island and local landmark on which stands an unmanned lighthouse. In the distance are the low-lying hills marking the route to the fishing village of Taganga.
The terrace bar features a menu of delicious and varied items. Enjoy a tropical cocktail while watching the sunset. This is an ideal space for corporate or social gatherings.
Hotel Santa Marta Real is by law also able to enter into a variety of service agreements under its corporate purpose as defined by the Superintendency of Corporations. Also in accordance with legal requirements and our commitment to the environment, we do not permit cigarettes, cigars, snuff, or any other tobacco derivatives on hotel premises, including in our rooms, to further ensure the quality of your stay with us.
Location
Street12 N. 2-38 Centro
Santa Marta D.T.C.H., Magdalena Colombia – CP 470001